Lenka Graf is a soprano, philanthropist and founder of the Energy Helps Foundation, which focuses on education, a healthy lifestyle and children's theatrical and musical activities throughout the Czech Republic.
In her hometown of Ústí nad Labem, she often organizes charity events at which a number of celebrities have already performed, such as opera singer Štefan Margita, Eva Urbanová, Markéta Fassati, Lenka Filipová and many others. In addition to musical and charitable activities, she is a loving wife and mother of two children.
17 Mar 2023 Hannover | Pavillion
18 Mar 2023 Kaiserslautern | Kammgarn
20 Mar 2023 Footballer of the Year / duet with Petr Kolář

Performance at the prestigious awards ceremony live on Czech TV
23 Mar 2023 Hamburg | Markthalle
24 Mar 2023 Cologne | E-Werk
25 Mar 2023 Munich | Backstage
26 Mar 2023 Zwickau | Ballhaus
6 May 2023 Prague | Lucerna / Leona Machálková with band and guests
11 Dec 2023 Prague | Broadway Theatre / Stars of Christmas II.
Lenka Graf together with Dark Tenor, one of the most successful artists in his genre, released a duet called You Are Not Alone. The song is a second single from the upcoming album, and Lenka worked on it with the famous producer Charlie Midnight, multiple Grammy award winner.
A video to this song will be a live recording of Lenka Graf and Dark Tenor's joint December tour. The tour and this duet was supported by the Eklipse string quartet, which you could see and hear on the Nightwish band tour.

Lenka Graf was born in Ústí nad Labem, where she studied Czech studies – music at the J. E. Purkyně University and further developed her extraordinary talent at the Prague HAMU. Her studies in singing never end, which is why Lenka is constantly improving under the direction of Director of Vocal Studies Melodie Dickerson, in the CCD program at the State College of Florida.
In 2017, Lenka's debut album Láska věčná / Eternal love is released, which is a pleasant mix of opera and pop and has aroused a response from listeners and the professional public. The composition Víru dej /Give a hope occupied the top of the charts on Czech Radio Dvojka for several weeks and won the Golden Czech Twelve award. With her first album, Lenka combined her musical and charitable activities and donated all the proceeds from the sale of the CD Láska věčná / Eternal love to the Energy Help Foundation, of which she is a co-founder.
The second album entitled Christmas Messages was released by Lenka Graf in 2018 and is a collection of songs with a Christmas theme. It also includes the Ave Maria prayer, which is a favorite text of musicians of all eras. Lenka's version is performed by the renowned violinist Jaroslav Svěcený, with whom she has a long friendship. The joint song received a great response in the media and a video clip was made for it.

The most current musical achievement is the EP Staň se co se má stát/ Become what is to happen, released in 2020 and contains 5 solo songs by Lenka Graf. The song Láska pouhá / Love Only from this album was heard in the film Úsměvy smutných mužů / Smiles of Sad Men, based on the short story of the same name by Josef Formánek, directed by Dan Svátek.
Although singing is Lenka's lifelong passion, in recent years she has devoted her energy mainly to charitable activities. In the field of charity, she has been working alongside her husband Aleš since 2011. Together in 2017, they founded the Energy Helps Foundation, which focuses on financial support for children's education (eg in the field of heart disease prevention).
Lenka combines her musical activities almost exclusively with charitable activities. Lenka Graf's live performances are therefore rare moments from which you will not only get the experience of an amazing singing performance, but also a good feeling that you have helped good deeds.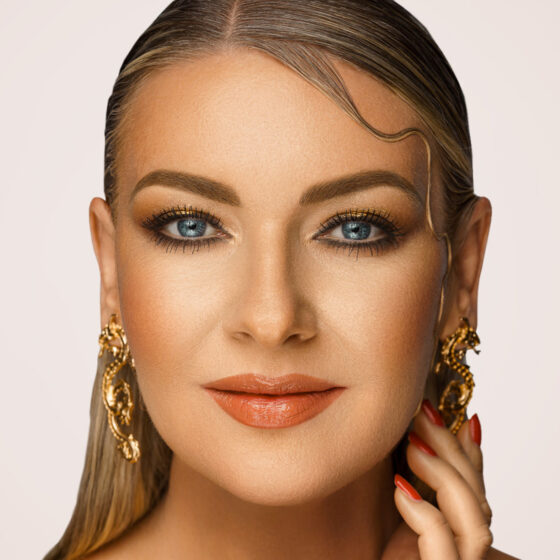 Soprano Lenka Graf releases video for single I Dare
The Energy Helps Foundation was established as the Energy Helps project of the same name, founded by CENTROPOL ENERGY, a. s. It supported the belonging of people to the place in which they live, which strongly resonated with the needs of the Ústí nad Labem region. From the beginning, the fund's activities were strongly associated with music thanks to Lenka Graf and were thus able to successfully penetrate the public consciousness and implement a number of charitable events.
Monika Absolonová, Jaroslav Svěcený, Lenka Filipová, Daniel Hůlka, Eva Urbanová, Štefan Margita and many other talented personalities also supported the charitable activities with their participation.
Thanks to the Grafs, a new Energy Helps Foundation could be created in 2017 on the basis of rich experience. Its mission is to provide long-term and systematic support for projects focused on education, healthy lifestyles and children's artistic activities throughout the Czech Republic. In addition to its long-term goal, it also participates in charitable activities that arise in response to current events in the company.